I have been a huge fan of OptimizePress over the years. I started with OP 1.0 using it as the theme for my DAP membership sites. Their member area pages were great with a built in member navigation sidebar. Then when OP 2.0 came out with a separate plugin (not just a theme), I jumped on board to use it for many of my sales and landing pages.
Old Version Abandonment
Trouble really began several months after 2.0 came out as it became clear that OP was abandoning the earlier version. I overlooked the pain of not being able to convert from 1.0 to 2.0. After all, it was an entirely different structure. Then 1.0 had a security vulnerability and many old OP sites got hacked. It took an unusually long time time for OP to patch it in my opinion.
Switch to Subscription Model
The next shoe to drop was the introduction of the "Club". Over time, basically, if you didn't belong to the "club", you weren't entitled to certain enhancements and add-ons. Of course that meant a monthly (or annual) subscription. I overlooked that too since they were coming out with some cool templates that you could import into your site. But then after a while, the templates all starting looking alike.
Don't get me wrong, I'm all for premium themes charging an annual support fee. After all, why would any theme/plugin developer continue improving their product without ongoing financial support?
OP's model goes beyond that in my opinion. And their subscription software is horrible! If you take the annual plan, don't count on them letting you know that your renewal is coming up and if your credit card has expired, you are SOL. The next email you get will be the "sorry to see you go" message with no way to reinstate.
What's Next for OP?
In OP's "official" Facebook group, they announced back in July that they are totally reworking the Live Editor. They assured everyone that pages/templates built with the existing Live Editor would be compatible. That their developers are working hard to achieve that. That sounds like weasel words to me. Maybe the old Live Editor won't be abandoned like OP1 was, but I imagine, it won't be smooth. They also promised that the blog part of their theme would look better. That's a long-suffering promise for sure.
I'm Switching to Thrive Themes
Switching to new software is never pleasant but I don't think I want to go through another OP transition. Why Thrive Themes? After hearing lots of folks report they had switched, I just needed to investigate it. I have so far been totally impressed with the mile high view of the company. I have watched endless videos from Shane Melaugh and I really am impressed with his thought processes and desire to make the process of creating WordPress landing pages, sales pages, led gen forms, etc. as easy and quick as possible. No freezing, no crashing, no performance issues, no bloat — just get the page done and then tweak later.
The Uninstall Test
Another problem I've always had with OptimizePress is that everything is shortcode driven and actual text is encoded in the database. That means for example, if you are switching your site from http to https (after installing an SSL certificate), you can't simply search for links in the database and change them because they can't be found with a text search. OP provided a "fixer" plugin but it didn't change all the links which meant going from page to page and resaving elements like icons and other images.
And don't even think about switching to a different theme or uninstalling the plugin. Your site will be a mess!
Thrive Themes on the other hand provides a very graceful exit should you decide to move on. All of the pages will be readable and much of the formatting will be retained. Watch this video as Shane demonstrates how various page builder programs stack up to this test.
Oh No…
As I was just complaining about OP going through a Live Editor upgrade, Thrive Themes is also upgrading their content builder. The new version is called Thrive Architect. As far as I can tell, the transition will be fairly seamless. The interface looks very similar to Content Builder. It just has more ways to customize your pages. One of the exciting features is the ability to see how your page will look on mobile right in the interface and fix any mobile responsive issues. That is huge!
My Plan for the Switch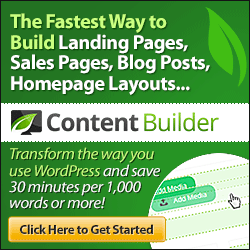 Switching is never fun. Right? My plan is just to take my time and convert first optin landing pages, then sales pages and then consider whether any site should get a total theme switch. I only had one site that used the OptimizePress theme (rather than the plugin) and the switch for that small site took a couple of hours as I was learning the Content Builder and overall theme settings. I will say, it took a lot less time than switching from OP1 to OP2 on that site!
Thrive Themes (unlike OP) gives you the option to go all in with their Thrive Membership which includes all the themes, all the plugins, unlimited support and various training tutorials and templates.
However if you just want a certain plugin or theme, you have an a la carte choice to get just what you need:
I'll report back here on the blog about my progress to switch from OptimizePress to Thrive Themes. Stay tuned.