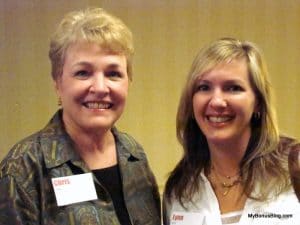 In June I wrote a blog post Niche Affiliate Marketing Workshop You Gotta Go and encouraged you to go to NAMS2. If you didn't go, you missed an incredible opportunity to take your blogging or affiliate marketing career to the next level. Six months ago, I went to NAMS1 as a newbie and returned to NAMS2 as an intermediate. The growth in that six months was almost entirely due to the people I met and the knowledge I gained from them. The education did not end when I left Atlanta–it was just beginning.
NAMS2 was even more valuable and more fun. It was so cool to see my new friends again after six months of tweeting, emailing, skyping and webinar chatting! It was especially great to meet Rob Anderson, the founder & CEO of Cagora, who came from Melbourne, Australia after talking to him for months on Skype.
A big thanks goes to David Perdew who put on the conference. He has developed something very magical. Just search #NAMS on Twitter and look at all the incredibly talented people who graciously gave of their time to help all of us. It was like having 3 days of one-on-one coaching on any subject you could think of.
I had three major accomplishments during the conference:
I finally put Joe Marsh's Google Formula to the test in one workshop he led even though I was convinced it wouldn't work. In fact I even bet him a $1 that it wouldn't work for my very competitive keyword. I followed his strategy step-by-step. I then went to my next session and 20 minutes later, I decided to check Google so I could collect my bet. Double-take! There it was at #10 on the first page. An hour later I was at #7. Needless to say I was thrilled to lose that bet and yes, I did give him my $1.
I had not given teleseminars a serious thought until I heard Cindi Dawson, the teleseminar coach, give her talk. She made it incredibly easy to think of the many ways you can actually do a teleseminar and then turn it into a multitude of various products. Because we all like to receive our information in different ways–text, audio or video–repurposing content makes so much sense.
Joint ventures — We learned from Mark Hendricks that "You can't make it big by going it alone". That means finding people to team up with to create products and to mastermind with. That also means helping other people. I am excited that Jeff Herring, Lynn Terry, Nicole Dean, Willie Crawford and Joe Marsh among others said they would love to come on my Blog Talk Radio show. I'm also looking forward to working with Traci Knoppe, one of the best blogging coaches, on a new project.
Good News! You will get another chance to experience the NAMS magic at NAMS3 in Atlanta in January. If you sign up early, there is a big discount! Click here to reserve your spot.
If you couldn't attend NAMS1 and/or 2 you can still get all the recordings and printed material on a USB flash drive. Click here for the NAMS4U Flash Drive.
And if you just want a taste of what it was like to be there, we created a live panel discussion with tips on how to do teleseminars and turn them into products which you can download by clicking here.
I invite you to leave a comment about your impressions of NAMS as a participant or even experiencing it through Twitter or blogs.

[2011 UPDATE] NAMS6 is in Atlanta August 19-21. Price through May 30, 2011 is $297 using coupon code 100special or take the 3 pay plan of $99 each after applying the code.