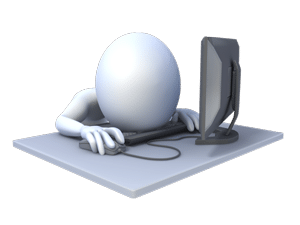 Part 2 of 10. It's not hard to tell articles, copy or blog posts that have been written solely for the search engines and not for the reader. Forgetting your true audience may get you a few new readers, but they won't come back.
You know what I mean. The author starts with a keyword phrase and appropriately puts it in the title and then a couple of times in the article, but then things go crazy.
He may be using an SEO plugin like WordPress SEO, Scribe or SEOPressor where you run a test on the copy and it scores you on your keyword phrase. Most of them include a keyword density score.
Next he feels like he needs to include the keyword phrase 5 or 6 more times to get a better score, and then thinks, "well, if 5 more is good, 10 more would be better".  Then he adds some bullet points inserting the exact phrase in every bullet and then bolds the phrase in a sub headline. His density score rings the bell and he's so proud.
By now the keyword phrase literally jumps off the page and the copy is oh so painful to read. Your readers can tell that you're not flowing naturally when you write for search engines, even if your content is good.
The irony is that it's the websites that consistently and regularly publish high quality content written for real human beings that actually end up ranking in the search engines. It might seem like optimizing your content for search engines is a wise idea, when in reality you'll end up alienating both the search engines and human beings.
My friend and expert copywriter, Karon Thackston, recently had an email exchange with Matt Cutts of Google about this very subject. She reveals on her Marketing Words blog some enlightening comments from Matt about how Google's latest algorithms view keyword phrases in copy.
By all means include your keyword phrase in the title, 2-3 times in the body of the post and even as "alt tags" in your images, but write for people, not search engines.
If you need some expert help, check out Karon's Myths and Musts of Writing Search Engine Copy.