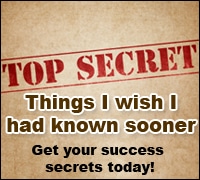 I'm excited to announce that the affiliate program for "What I Wish I Had Known Sooner" has just opened for applications. The Known Sooner series' first product is a video/eBook package directed to Internet marketers who don't want to learn marketing strategies the hard way or reinvent the wheel. Twenty-nine marketers reveal what they wish they had known sooner about a variety of subjects.
The basic version is free as of this writing. Affiliates can direct their readers to get the free version and be tagged for life. Should the tagged customers ultimately purchase a product, a commission will be paid to the referring affiliate.
The free report includes a bonus Rebranded version which is quite powerful, because when someone clicks a rebranded link, the affiliate gets tagged.
We have two premium products to promote, "Product Creation" and "Traffic & Listbuilding". As more products are added to the series, all affiliates are automatically updated to include the new products. All affiliates get access to a secure dashboard providing marketing materials, statistics and affiliate links.
If you are an affiliate marketer, you will want to add the "Known Sooner" affiliate program to your product offerings. Also, after applying, be sure to add yourself to the affiliate subscriber list so you won't miss any important update announcements.
Please leave a comment if you have any suggestions for improving this program.
Regards,
Chris Cobb