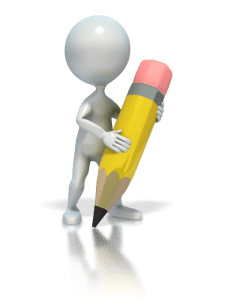 Here's a great article by Jeff Herring for new bloggers about when to start writing articles:
Q: I'm just getting started in article marketing. My website is in development. Should I wait until my website is up before I submit articles so that I have a place to send people for my resource box? Or is there some other option?
A: If you don't have your website up yet, don't let that stop you from writing articles, and I'm going to walk you through several different things you can do.
Here's a little insider tip. You can already begin to write your articles over at EzineArticles. Put them in draft form and save them over there for when you do have a website up.
What I do that saves me time is I write my articles right there in the submission field at EzineArticles. I don't write them in Word and then transfer them over. They're written right there in EzineArticles, and then you just save them in draft form for when you do have something up.
What I would rather you do is get at least one article in and accepted by EzineArticles even before you have your website up because every new person is added to that list of almost 200,000 authors over there, and you go to the back of the line. I'd rather you have one article accepted and up so when you do have your website up they can be accepted right away.
If you're waiting on a website, I don't know how you're designing it, or if somebody's doing it for you or you're doing it, but there's lots of ways you can get a web presence right away. You can get a Facebook page for free right away and send them there to get more information from you. The same thing with Twitter.
You can go to Ning.com and get a one-page little website put up for free and send them there. Whatever it is that's holding up that website, don't let it hold you up from writing articles.
Write them, put them in the draft section if you want, and you can also send people to a Ning site, to your Facebook site, all of that for free. Whatever it is, just start getting the articles out there.
And now I would like to invite you to claim your FREE Instant Access to 2 of my Instant Article Creation Templates when you visit TheArticleGuyBonus.com
You'll get get two "plug-n-play" article templates – just plug in your info! And you will also get a 30 minute Audio Replay of a teleseminar about writing more articles in less time than you ever thought possible.
From Jeff Herring – The Article Marketing Guy and The Great Article Marketing Network.