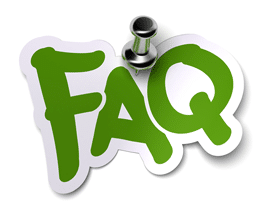 Adding a Frequently Asked Questions or FAQ section to your blog is a great way to arrange important features, resources or even present information on your About page. Typically, these are arranged on the page so that the questions are visible but the reader must either click the question or hover over it to open up the answer.
In WordPress, the best way to add this functionality is through a plugin. Here are a few suggestions for plugins you can use depending on how you want to present the information.
Artiss Content Reveal
Artiss Content Reveal is a free plugin from David Artiss and is a simple reveal by clicking the "question" or any other title. The plugin adds an icon to your post/page editor toolbar which makes it easy to add the shortcode including the question and answer. The shortcode looks like this:
[  reveal heading="%image% Click here to show/hide contents" ] Insert answer [ / reveal]

The %image% tag inserts an image to indicate the content is hidden and another image when it is revealed. You can change this image by uploading your own. "Click here to show/hide contents" is where you would put your question or the content that is displayed. Then where I've added "Insert answer" you can put the answer using text, images or even a video.

Here's an example. Click to Open It Up
See? Pretty cool, huh?
The shortcodes can also be used in a widget. The downside is that it's not easy to customize the font although you can use <h> tags within the quotes. Also you may find that it doesn't work with mobile apps like WP Touch or in an RSS feed.
WordPress FAQ Plugin
This is a premium plugin from Tribulant. Unlike the Artiss plugin, this is a full featured plugin complete with an admin dashboard. Questions are entered like a post where the question is the title and the answer is created by adding content in the body of the post. You can also group questions into categories and then display a group of questions.
Another great feature is the ability for your readers to ask a question. When the question is submitted, you receive an email and then can answer the question in your dashboard. You can choose to answer privately or to add the question to your list of questions on your website.
Rolling T Stores uses this plugin on their ecommerce store. If you click to one of their product pages, you'll see the questions at the bottom of the page. The last few questions are actually ones visitors submitted in the "Ask A Question" box.
This plugin is easier to customize than the simple content reveal. [30% off thru 12/31/12 with coupon code CHRISTMAS]
 Sugar FAQs
Here's another premium plugin found at Code Canyon. It is similar to the Tribulant plugin in that it is a full-featured FAQ organizer with post types, groups and question submission. It has a good looking accordion feature as you can see by the screenshot below.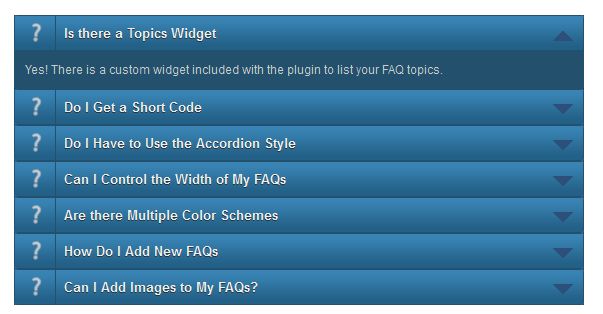 Is your mind sparking with ideas of how you can incorporate FAQs into your blog or website? Let me know in the comments.